Mission and Vision
Mission
Mathematics illuminates the beautiful and astonishing hidden structures of the universe, on which the world of science operates, through which technologies function, from which social sciences can be modeled and with which the humanities and fine arts interact.
It is the mission of this department to share wonder about, appreciation for, understanding of, and facility with mathematics with as many people as time and space allows, locally, regionally and internationally, regardless of any characteristics of those individuals whatsoever.
Within this mission, we are driven to welcome and nurture all those with whom we interact, and to remove barriers that stand in the way of any human being exercising their inalienable right to contemplate the beauty of mathematics and to harness its power.
This mission includes:
a dedication to produce new, important, and relevant discoveries that advance mathematical knowledge and applications of all kinds, to disseminate these results in our classrooms and in seminars and conferences throughout the world and to foster a robust environment that allows our faculty to grow and succeed in these pursuits
a passion to provide our undergraduate majors, Masters students, and PhD students with solid foundations, strong technical skills and high level expertise, with which to excel in future professional endeavors, view the world with a mathematical lens and maintain a thirst for lifelong mathematical inquiry
a commitment to serve VCU students of all mathematical abilities and interests, through challenging, enlightening and beneficial/useful courses that broaden quantitative skill sets, develop critical reasoning abilities, reveal connections to the real world and facilitate applications to other fields of study and to varied life scenarios
a desire to increase among the greater Richmond community the awareness of, the appreciation for and the interest in mathematics and its relevance to modern society, through creative and engaging K-12 programs, accessible and inspiring public lectures and other innovative programs and interactive special events
Vision
The Department of Mathematics and Applied Mathematics will be a model of a vibrant and thriving university mathematics department, exhibiting excellence in the following areas, as interwoven into the fabric of the local, regional, national, and international communities.
We commit to: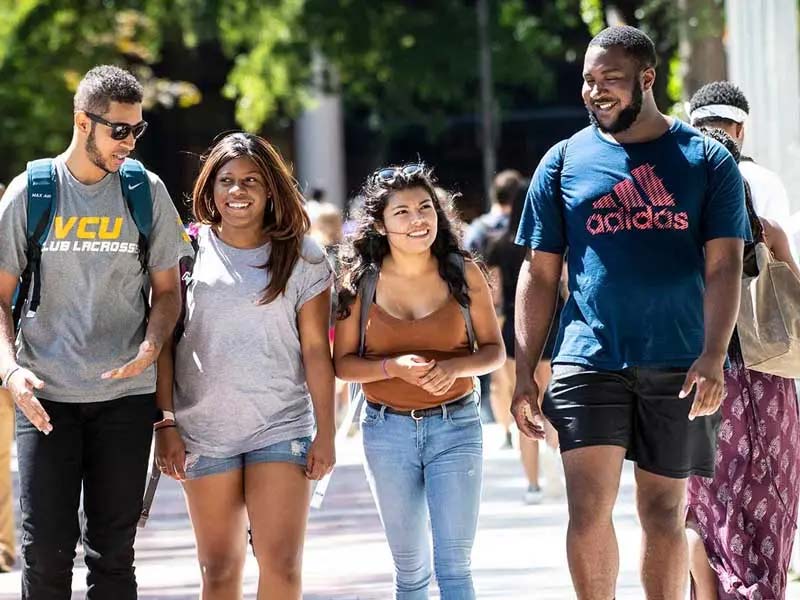 Justice, Equity, Inclusion and Diversity
Becoming a national model of justice, equity, inclusion and diversity for students, faculty and staff, within both the university and the profession, making a collective impact in these areas throughout all of these categories
Research
Expanding our national and international reputation for our varied research in pure and applied mathematics and mathematical education, our innovative Ph.D. program and our engagement in the profession
Teaching
Growing our campus stature as a model for teaching excellence at all levels, in and out of the classroom, including our dedication to pedagogical advancements, adaptive and relevant high quality curricula, and undergraduate research
Student Community
Having a robust extracurricular environment that attracts and engages students, inspires in them an expanded curiosity in and appreciation of mathematics and offers for them networking and developmental opportunities that prepare them for both employment and further education
Outreach
Sustaining our regional and national leadership in programs that support K-12 mathematics education and the broader learning community