Jan Rychtar, Ph.D., receives awards from Council of Undergraduate Research and The Mathematical Association of America.
Sept. 29, 2022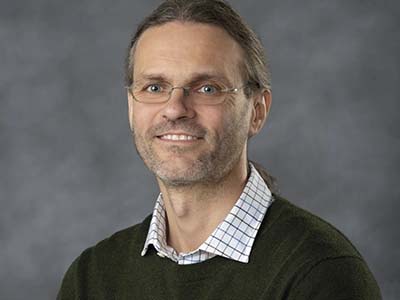 Jan Rychtar was awarded the 2022 John M. Smith Award for Distinguished College or University Teaching by The Mathematical Association of America (MAA) Maryland-DC-Virginia section. This award is given to one university teacher who has been widely recognized as extraordinarily successful and whose teaching has been shown to have had influence beyond their own institutions.
Rychtar also received the Council of Undergraduate Research (CUR) 2022 Faculty Mentor Award in the advanced career category from the Mathematics and Computer Sciences Division of the Council on Undergraduate Research (CUR). This prestigious award is given to someone in recognition of their outstanding mentoring of students in undergraduate research and who has gone above and beyond in successfully mentoring undergraduate students.
The following quotes are from students of Rychtar and were read aloud at the awards ceremony for the John M. Smith Award. "[He is] an excellent professor. He truly cares about student success, is willing to explain and re-explain confusing concepts, and is prompt in replying to emails and offering suggestions. I honestly can't think of a more enjoyable teacher," and, "[He] will give 100% of his effort to make sure you have a positive and engaging class experience".
Throughout his career, Rychtar has directly supervised over 120 undergraduate students, resulting in over 55 student-co-authored publications. His research with students has been supported by MAA-funded National Research Experience for Undergraduates Program (NREUP) and Preparation for Industrial Careers (PIC) Math grants. Additionally, Rychtar, along with Dr. Dewey Taylor, heads the Research Experience for Undergraduates (REU) here at VCU and has resulted in collaboration with professors and students from universities around the world.