VCU alum establishes the Reuben Farley Award for Teaching Innovation and Excellence
Feb. 25, 2021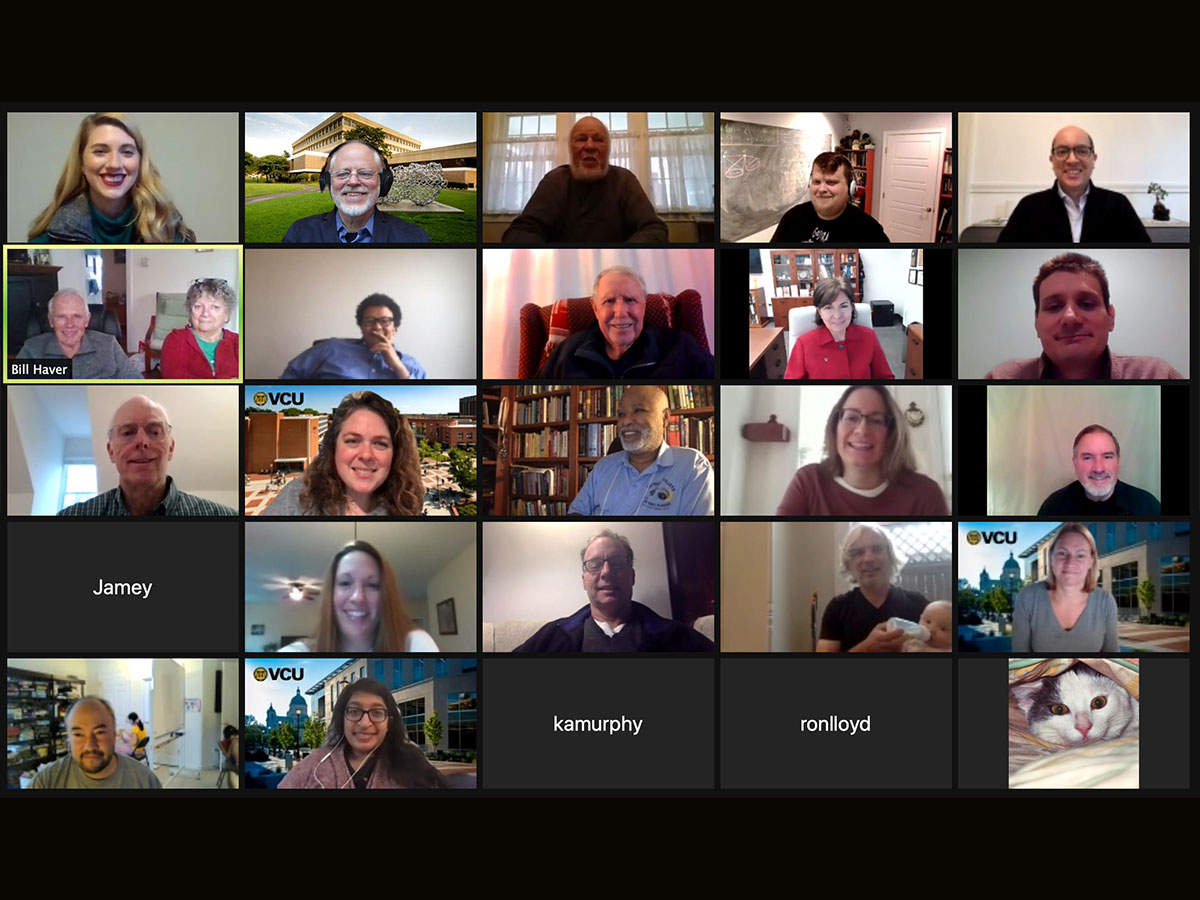 Reuben W. Farley, Ph.D., an emeritus professor in the Department of Mathematics and Applied Mathematics at VCU, was on a very special Zoom call. More than 25 faculty members, along with alum Janis Terpenny, Ph.D., gathered online to reveal a new honor given in the retired professor's name, the Reuben Farley Award for Teaching Innovation and Excellence. In response to receiving this honor, Farley said, "Nothing can top this award from a dear student whose success is truly notable! May these annual awards inspire continued teaching excellence within the Department of Mathematics and Applied Mathematics and beyond."
This annual award will be given to two faculty members, one tenure track faculty and one term faculty, in the Department of Mathematics and Applied Mathematics who have shown excellence in teaching and innovation in the classroom. The current faculty will vote on the awardee each year. Each winner will receive a cash gift of $850.
Department Chair Glenn Hurlbert, Ph.D., was happy to attend the event for Farley. "If you ask anyone who knows Reuben and has worked with him," Hurlbert said, "they would say that the most important thing about Reuben is that he was an outstanding teacher who cared deeply about his students, who was committed to their success, and who changed lives because of it."
Among numerous awards Farley received during his time at VCU, he also served as chair of the Department of Mathematics and Applied Mathematics where he created a master's degree and math specialist program. He was a founding member of the Virginia Mathematics and Science Coalition in addition to serving as chair of the university-wide governing board for three years. And with rave reviews from faculty, staff and students, it was no wonder that Farley was a recipient of the Excellence in Teaching Award from VCU and the Outstanding Faculty Award from the State Council of Higher Education for Virginia.
VCU alum Janis Terpenny, Ph.D., was one of the many students who thrived under Farley's mentorship. Terpenny, who currently serves as the Dean and Wayne T. Davis Dean's Chair for the Tickle College of Engineering at the University of Tennessee, Knoxville, and her husband graciously established this award. She graduated from VCU in 1979 with a degree in mathematics and applied mathematics and has been the first female in every role she has ever had in her professional career. However, her academic and professional journey was not always easy: "I am a first-generation college graduate. I came from a middle-class family who could not afford to send their children to college. I worked in high school and during my time at VCU. … Working in the math department [as a work-study student], I came to know the faculty much better. Dr. Farley in particular was always open and welcoming."
Farley pushed her to pursue science, math and engineering classes where others did not see these areas as a female role. Upon graduation, Terpenny remained connected to Farley for decades, attending conferences together and even Terpenny's wedding.
Through the guidance and support of the remarkable faculty at VCU, students are able to discover their passions and develop their strengths. For Farley, students like Terpenny are what teaching is all about: "Her achievements exemplify those among thousands of students who I and my colleagues have experienced the pleasure to teach and advise," he said.
The Zoom announcement was a touching event—so much so that two retired faculty members decided to donate an additional $13,000 to the fund. Farley ended the call with this, "My heartfelt thanks to Janis and Wally Terpenny for honoring me and VCU through the establishment of this award."